Lillie Goodrich
Founder, Executive Director & President
Reviewing a career of work usually leads you to write a pretty standard biography of experiences but now that I'm here, committed to Glen Highland, the past is barely relevant. Gone are the schedules and timelines, meeting other people's needs; gone are the political agendas manufactured to suit someone's ego; gone are the pressure cooker environments where everything is critical yet totally out of proportion.... instead, what I experience with rescue work is far more gentle, yet more demanding in a very different way. I am now working 24/7, not because of the internet, but because animals need you up by 6am, filling their tummies and back out at 8pm, for a final piece of business. Their bark for attention is so honest, so direct (unlike the business world) and so easily handled...they just want to be with you.
Ever since the age of five, I'd dreamt of helping animals who were hurt, abandoned or uncared for. In fact, I prayed every night for the safe-keeping of those in danger. My own 'inner-tuning' led to an intuitive relationship with border collies who's sharp focus and instinctive brilliance is well-noted in the dog world. This breed tunes into the people and situations around them in order to understand what's needed. Finally, the dogs led me to my life's work.
That 'calling' led me to co-found Glen Highland with life partner, John Andersen. We worked side by side for 25 years in upstate NY until his death 4/20. Over the years as Executive Director, I have been channeling my intuition into matching border collies with new guardians, as well as utilizing my professional experience to oversee the day-to-day rescue operation and affiliated programs. Over 3000 dogs found new lives since the inception of Glen Highland. We also created The Getaway, a wildly successful dog lover's vacation experience where funds supported the rescue. And, also created Camp Border Collie for Kids, pairing inner city children with rescue dogs were over 400 children transformed their hearts.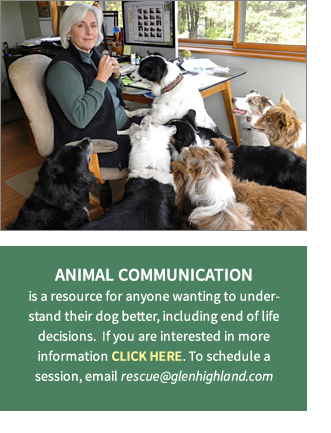 Now, the work has moved to Virginia with a Senior Sanctuary and Rescue devoted to Border Collies age 10 and over. Thirty dogs find safe haven living as Residents til the end of their lives, if adoption is not possible. This more focused approach allows us to target dogs who truly have no one to help them. Part of the joy of working with dogs is also being an Animal Communicator. Being able to 'hear' dogs allows me to know their desires and ways to help them on their journey. Many people ask for private sessions to help them benefit from understanding their dogs better just as the rescue dogs benefit from me understanding them more clearly.
My background has been full of creation - original ideas becoming a reality with twenty years experience in highly competitive industries - television, advertising, and marketing, acting as a catalyst for innovative projects, leading multi-million dollar projects for Fortune 500 companies (Bristol-Myers Squibb, Lexus, Maybelline Cosmetics) as well as producing for television broadcast networks (ABC, NBC, CBS, Time-Warner).
My life's work is now the Border Collie breed, assisting these highly intuitive and sensitive dogs. My awareness of their capacity to heal and transform people is profoundly humbling and I remain forever grateful for the support of others who love them as much as I do.