NEW SANCTUARY RESIDENT
A 14 year old sweetheart, Daphne landed at Glen Highland from North Carolina and has fit in like she's always lived here! Super friendly to everyone she is meeting and happy to be with you, side by side. Daphne is a complete doll.
She lost her home due to financial issues with a move to non-dog residence. She lived in this home for 13 years as the emotional support dog for her FurMom, helping care for her and the family. They were desperate to find her a safe place to share her heart with others.
Daphne is a blast, just loves a good ball game and is happy to hang with other Border Collies joining in the action. Her new buddies are Resident, Nikko and Rescue dog, Reed. The three of them are a great trio, interested in exactly the thing and a great pack of action! Of course, as the brilliant female BC of the group, she is controlling the ball and they are quickly realizing that a new dynamic is at play! We're sure it will all work just fine!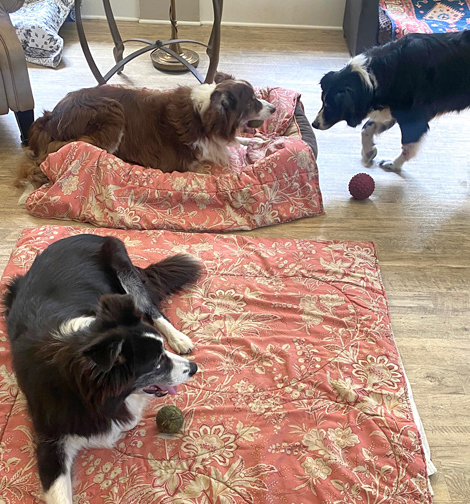 Previously a beloved family member, this arrival at GH almost didn't happen because it was such a last minute push to find safe refuge. A home had been found and then fallen through. It was literally the day before the family move that rescuers united together to move her north.
A huge thanks to Phoenix Rising Border Collie rescue whose volunteer alerted us to Daphne and then linked another volunteer to helping…Elizabeth Marcoccia changed her day and put her total focus on finding somewhere for Daphne to stay for three days til the transport could happen. One of our volunteers, Renate Goodloe, dropped everything to spend Sunday night with her on the late arrival.
IT ALWAYS TAKES A VILLAGE…Daphne needed everyone to help and she thankfully got all that support.
The team at Glen Highland can't wait to get to know this girl better…she is just the funniest, brightest, sweetest thing…and has decided she just might be busy enough here! Lots of land, lots of dogs, lots of time to be the boss girl!
Daphne needs full vetting since all her care was out of date. We are hoping she is as healthy as she is cheery!