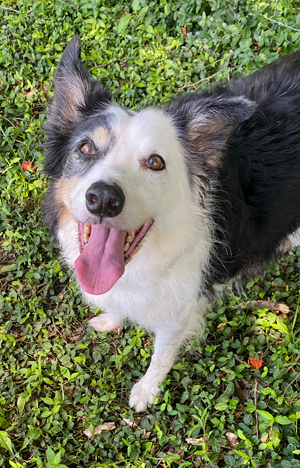 SANCTUARY RESIDENT OLLIE is quite the character with a high drive herding nature, keen to chase, race and "work" non-stop. He loves the big pack of rescues that is now his life, preferring herding action to cuddling with a human. Ollie is a classic 'brainiac' Border Collie with lots of quirks including car chasing, obsessive compulsive shadow chasing and a big dislike for kids…not an easy adoptable combination. Bounced from two homes starting at age 2, Glen Highland made sense as a permanent place that could stimulate his mind and adjust to his challenges.
Today, he's still a wild man at 10 years old but safe and sound where his needs can be met properly. Ollie keeps us laughing all the time with his brilliance... almost more than he can handle! We expect him to age beautifully into a very active Senior one day, though not any time soon!

Mary Burkhalter, in memory of Russy and JayJay
In loving memory of all the Border Collies that have touched our souls - Sue, Bob, Dyson, Snidely & Jack oxoxoxoxo
Ollie needs 1 more angel!