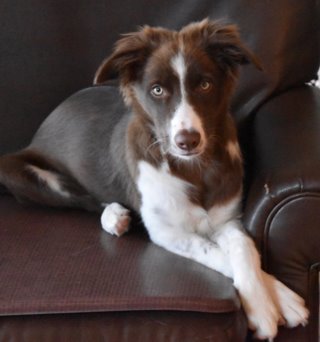 Resident ROSSI was 3 months old in 2016 when rescue became the only option to save him since his swallowing disorder, Megaesophagus, was making eating impossible. A tough disease to solve, the real answer is 24/7 management and extremely careful oversight, making every meal a critical endeavor. Many guardians cannot handle the heart-wrenching experience of watching their dogs waste away to nothing, unable to gain enough nourishment because they regurgitate whatever they eat.
Rossi would always be at risk, requiring continual vigilance for any breathing or choking problems, lethargy or fever, a truly special needs dog. While his adorable face attracted adoption interest, his medical condition did NOT. Glen Highland became his home, living with the Founder's who could monitor his every need. If he had any chance to live a longer life, it was under dutiful watch with quick medical support.
This loving pup instantly took center stage at Glen Highland with great determination to find any new diagnostic tools to help him. A cross-country trip to the University of Missouri Vet Center for innovative evaluations gained some insight on feeding techniques to improve regurgitation but sadly, Rossi was not a candidate for a full-time fix with surgery.
Living with Rossi's condition and growing body, required experimentation. Day by day, small meals, hand-fed or in an elevated bowl, worked somewhat. But as his body lengthened, so did his esophagus so regurgitation became inevitable. No matter the efforts, he was left hungry and required emergency vet attention for aspiration pneumonia, unable to breathe. Rossi's case was closely managed by the Cornell Vet Hospital team, hoping to keep him alive as monthly emergency runs became the norm. Every single month in 2017, Rossi was treated as xrays revealed the need for medication to reverse his downturn. Luckily, he would pull through.
In January, 2018, Rossi became a test dog for Sildenafil, (the human drug Viagra) and life has now changed for him. A study done in Italy revealed that the drug will relax the lower esophageal 'flap', allowing food to pass more easily and remain in the stomach. It has been working well throughout 2018, reducing his risk of a near-death event and need for emergency vet care. He has been at the emergency clinic only twice since starting the medications, a truly life-saving solution.
Rossi has grown into an action oriented, classic Border Collie, with all the joy of living he should experience. Many tears have been shed worrying about his fate and now, there is greater hope that his life will be a long one. While there is still great caution ahead, his health is scrutinized minute by minute, hour by hour, day by day and will be for as long as he lives.