Well, it was a hard day Tuesday 9/28 saying goodbye to REO unexpectedly in the morning and MILES end of day.
Thankfully we had time to prepare for Miles... sadly his liver had been failing in the past few weeks. He was clearly lethargic, much weaker, really grouchy and suffering which was not his personality at all - his liver was only working at less than 50% capacity. The progression was fast and tough on him.
This normally happy, smiling boy shared so much joy with everyone which was evident in the final moments when two of the vet team made a special trip out to the car to give him a hug and kiss on the head - they just adored him - he was a frequent visitor there with all his health challenges and they were just heartbroken knowing he was not coming again.
We are just as heartbroken because watching the transformation of his medical nightmare into a buoyant, good-natured, healthy, really care-free guy was amazing…a true celebration of a great year where he could now leave in peace…we would have loved more time with this comical fellow.
Miles had the best last day…we shared the plans with him and he got it…playing like a puppy again on his final day, eating like a champ and then at the door, truly, AT the door, ready to head out with a nod for his next journey to begin. All of the dogs at Glen Highland talk to Lillie as an animal communicator and in the final moments of their exit, what they have to say and how they respond to their departure is stunning…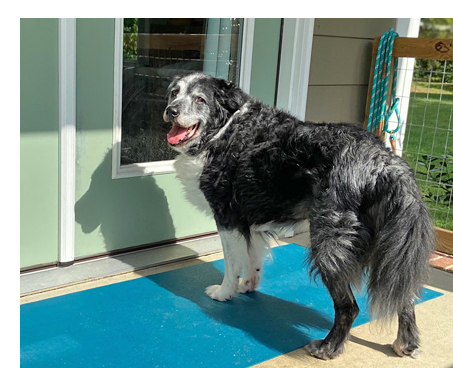 Miles was a classic… a massive thank you, it was great and 'gotta go'…I have more to do on the other side…just as he passed, a graceful, quiet energy filled the back of the car where he laid and we knew deeply inside our hearts that he was right where he needed to be…MILES, like so many of the Border Collies, is a 'heart-worker' and had another job to do. We do not know what or with whom but HE definitely was ready to tackle the 'next'.
HAVE FUN MILES…YOU ARE A BLAST WHEREVER YOU ARE…