There are numerous supplements of all types and surely many of you have had success with them but we remain cautious and guarded about the benefits of any not incorporating a scientific foundation with veterinary involvement...
Myos had the right combination for us to agree to participate.
And we've found that it gives the results we were hoping for!
In 2020, we participated in an 8 week trial using MYOS Canine Muscle Formula. Working with Dr. Albert Ahn (the vet associated with Myos) we chose 7 dogs, ranging in age from 11 to 14, in a very thorough, thoughtful approach so as not to impact any underlying medical issues. We measured their mid-thigh circumference weekly; their movement on flat terrain; their speed in moving over a distance; and their ability to rise from laying down... We started in August and waited until now to share all this, to be sure of our results. We are now buying the MYOS product and feel it is worth every penny.
Sox, Reo, Dougie, Hunter, Nanu, Mac and Nell were in our test group and continue on it now. Each gained a full INCH or more on each back leg... all muscle mass... they are all stronger in their mobility. We have not seen results like this with any other supplement or just pain medication.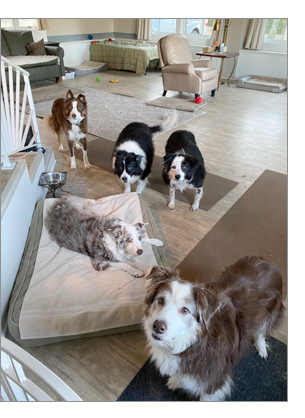 For DOUGIE, this is a huge win... born with no hip sockets at all, he is prone to ACL tears (we repaired one already) and now Dougie has much more mobility and strength than ever seen before... his 9 inch thigh increased to 10 1/2 inches on the left and 12 inches on the right... he is VERY mobile compared to before.
For REO, her backend left her without good mobility, likely due to some trauma like a car grazing her because one side is literally sideways as she moves... her 8 3/4th inch thighs now measure 9 1/2 inches on the left and 10 1/2 inches on the right... Reo is stronger, faster and having a much better life happy to move again.
Each of the other dogs gained inches as mentioned but for the two most disabled, the benefits were tremendous. Seeing their comfort level increase gave us confidence to share this with others. The only thing that didn't change quite as much as we had hoped was the dog's ability to get up more easily from a laying down position, but the strength gained in movement far outweighed that.
For any of you already using Myos... please share your experiences with us. For those not sure... try it for 2 months and then decide what you feel. You may not see anything in the first 4 weeks... we did, but you may not. By the end of the 8 weeks, we knew we had a winner. We hope you find this works for your dogs too!


WE ARE THRILLED TO HAVE A TOOL THAT IS EASY TO USE... JUST ADD TO THEIR MEALS... A NATURAL SUPPLEMENT THAT HAS SCIENCE BEHIND IT AND CLEARLY WORKED FOR OUR SENIORS.
Got questions?
Write to: info@myospet.com ... They are very responsive and helpful!
To order:
Visit the Myos store and be sure to enter code GH20 to get 20% off!